Built to last
17 May 2021
Article placed in the May 2021 edition of Trailer Magazine.
The need for robust and reliable trailer axles and components for its builds led trailer manufacturer Harris Automation Engineering to Fuwa K-Hitch. Now, 14 years on, the company remains convinced that the products and service it receives from Fuwa are unbeatable.
Harris Automation Engineering specialises in the manufacture of a wide variety of trailers and bodies to suit the individual needs of its customers.
The company prides itself on its innovative approach to design and manufacturing techniques, focusing on continual product improvement along with safety and efficiency for operators.
The range includes extreme-duty outback models extensively tested by the company's Research and Development team to ensure each product and associated components exceed the expectations of clients.
In fact, one of the factors that initially drew Harris Automation Engineering owner Brendon Harris to Fuwa K-Hitch was Fuwa's inclusion of what he considers to be the best bearings in the business.
"Fuwa K-Hitch uses Pro-Par bearings in its trailer axles which I really like," Brendon says. "Fruehauf used to use Pro-Par bearings and when you have a trailer that's 45 years old and still has the original axles, I believe that says it all."
Brendon says he also believes the Weweler suspension supplied by Fuwa K-Hitch is an extremely good product.
"The suspension I like to use from Fuwa K-Hitch is the Weweler 11-tonne airbag which I think is bullet-proof," Brendon says. "We've been testing it on our trailers in outback Northern Territory and it's proven to be more than up to the task.
"We also use a number of other K-Hitch components including landing legs, kingpins, fifth wheels and air tanks."
He mentions that keeping in touch with clients is an important aspect of the company's operations, ensuring continual product improvement.
"I talk to all my clients to see how things are going – it's not like we build a trailer and never talk to them again," Brendon says. "You should be able to buy a trailer and run it for 10 years, then bring it back for an overhaul and have it looking brand new again."
Brendon emphasises that his company is not a volume producer; rather working with its customers to build trailers and bodies exactly to their individual requirements.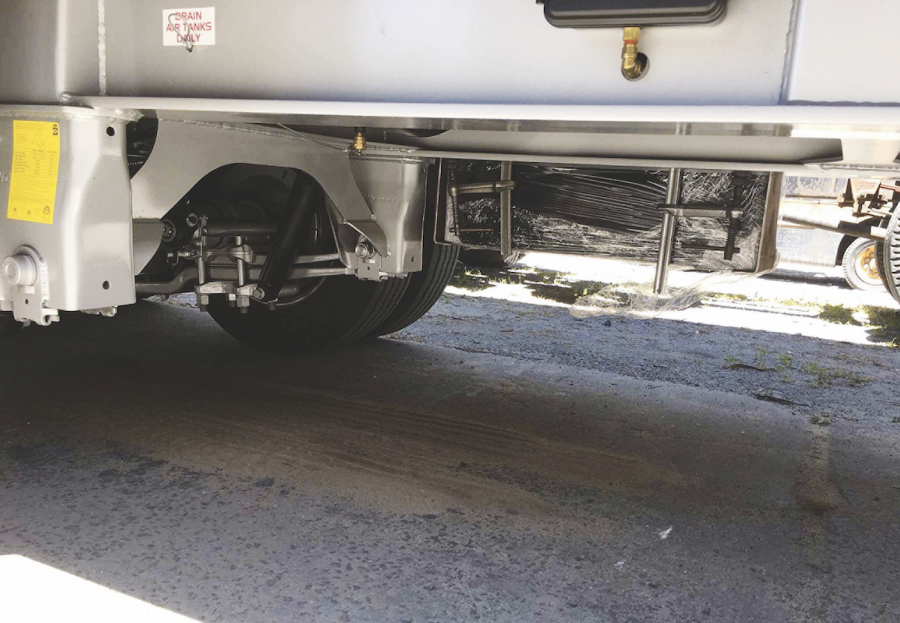 The range of trailers the company builds is extensive, including pig and dog trailers, semi-tippers, flat-tops, drop decks, skels and retractable skels. The company also specialises in bespoke bodies for applications such as horse transportation.
Other facets of the business include refurbs and suspension conversions with all work done in-house. As such, there are blasting and paint bays, a steel press and a plasma cutter – the latter two enabling the formation of trailer chassis, crossmembers and other components from flat steel plate.
According to Fuwa K-Hitch Regional Sales Manager, Diaa Bishara, the company has, for more than 10 years, been supplying Harris Automation Engineering with a wide range of components including mechanical suspension and VDL and KI air suspension systems with 8-stud and 10-stud drum brake axles. These are fitted with ABS pole wheels and auto slack adjusters as well as an axle lift function if required.
"The VDL is a U-bolt style of suspension that allows flexibility for Harris Trailers when fitting our full range of axle sizes including 17.5", 19.5" and 22.5" drum brake and disc brake models," Diaa says.
"Fuwa K-Hitch welds and assembles the suspensions to the axles at nominated chassis rail centres at our facility in Derrimut (Vic), and we also pre-install additions such as Anti-lock Braking System (ABS) pole wheels, brake boosters, sensors and automatic slack adjusters.
"In this way the customer receives a modular axle and suspension system that's ready to install easily to their chassis – which eliminates the hassle and time factor of customers having to undertake critical welding and torquing requirements themselves."
Diaa explains that Fuwa K-Hitch also supplies Harris Trailers with other necessary components including landing legs, spring brake chambers, fifth wheels, ballrace assemblies, drawbar kits and tow eyes. This, he says, makes life as easy as possible from a supply perspective.
"We do all this whilst offering extremely competitive pricing and what we believe are industry-leading stock availability and the shortest production turnaround times in the business," Diaa says.
"In fact, generally we can have the product to the customer within five to seven working days after ordering, giving them greater flexibility in planning their own production requirements.
"For anything outside of this we are just a phone call away and ready to assist wherever possible."
Brendon Harris confirms that the team at Fuwa K-Hitch has always been helpful and prompt in supplying him the products and advice he's required.
"Diaa and Chris Barrett (National Sales Manager) are good blokes, and the store people are pretty cool," he says. "They've always been willing to help any time I've needed them."
Fast Fact
For the last 14 years bespoke trailer builder Harris Automation Engineering has standardised on Fuwa K-Hitch products including Weweler 11-tonne air suspension, landing legs and kingpins.

Source: Trailer Magazine - May 2021 edition - www.trailermag.com.au - Link to article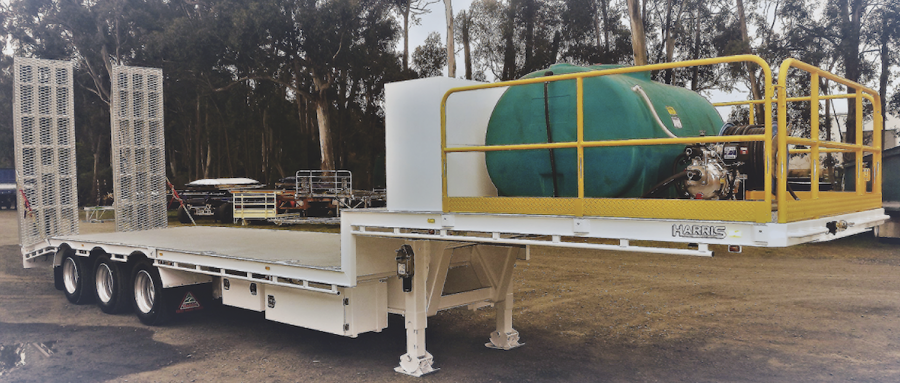 Back