Developments
---
The Next Generation
The MBS® 3.0 system will become a re-alignment free 9/10t air suspension for worldwide applications. It is being developed in house in accordance with VDL Weweler's philosophy: multi-purpose, extremely light-weight and with minimal maintenance. The air suspension system will be clamped around the axle using an ingenious way of clamping offering unique modularity in the spring track.
The unique hanger bracket and the new pivot bush design will tribute to the light-weight design whilst eliminating the need for traditional pivot bolts. Alignment will be very easy as the hanger rotates around the center top bolt allowing for an adjusted of ±3,5mm. The weight of the final air suspension system should be just over 100kg per axle row and with that, it will be one of the lightest suspensions in the market.
All parts are bolted, eliminating the need for welding and therefore improving maintenance.
A ride height range of 200mm to 500mm is foreseen by using just 3 different tail ends, with the height variation coming from the chassis plate and the pedestal.
The system will be equipped with the option of either hydraulic shock absorbers or air damping.
---
MBS-Maxi
The MBS®-MAXI system is a 9t. single leaf air suspension specifically designed for swap-body applications. (WF)
With the Maxi it is possible to use a more common, cost-effective long-stroke air spring whilst still maintaining a total stroke of 440mm.
The solution is equipped with flexible high strength spring steel trailing arms incl. safety clip and can be fitted to Ø146mm drum or disc brake trailer axle.
The closed reinforced hanger brackets can be fitted with a patented casted bracing option, that ensures forces going straight into the chassis.
The shock absorbers are equipped with high temperature Viton® seals.
Furthermore the range offers easy alignment with re-alignment free bushing and low & easy maintenance.


Specifications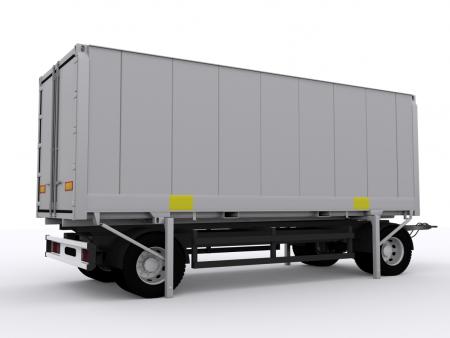 Maximum axle load: 9t
Single leaf trailing arm: 100x59mm
System dimensions: L1 = 690mm / L2 = 310mm
Available axle clamping: Ø146mm
Ride height range: 315-555mm (bump dimension: 245mm)
Air spring options: Ø360mm
System weight: ≥ 230kg
Optional Bolt-On® axle lift
---
Air Damping
A current development in air suspension is air damping.
In cooperation with air spring manufacturer Firestone, VDL Weweler is developing a two-way functional air damper which can eliminate the traditional hydraulic shock absorber.
The unique damping mechanism of the Firestone - VDL Weweler design works in an ingenious way so that both the body and axle motion are properly dampened (at different frequencies).
Under every load condition the damping ratio is optimal.
Air damping is foreseen for an axle load ranges of 9t up to 12t and can be combined with a large range of standard available VDL Weweler air suspension systems.